Dana A. Wells, M.Ed., RDN, LDN, LPC, CPT
Dana is a Registered Dietitian Nutritionist/Licensed Nutritionist and Licensed Professional Counselor who has been in private practice since 2006 specializing in Weight Management, Eating Disorders, Addiction, Trauma, and Sports Nutrition.  She has a certification in EMDR as well as a certification from the American Dietetic Association in Adult Weight Management and is also a Certified Personal Trainer through the National Council of Strength and Fitness.
Dana's passion is working with clients who have weight issues, eating disorders, and nutrition-related problems associated with substance abuse and mental health issues. Her unique educational background allows her to treat individuals not only from a nutritional perspective but from a psychological level as well. Dana's goal in treatment is to build a respectful and trusting mutual relationship in order to work together as a team to meet individuals' needs.
As a counselor, she is versed in treating clients with eating disorders, addictions, PTSD/ trauma, bipolar, ADD/ADHD. Dana currently consults at an Intensive Outpatient Program for drug and alcohol abuse, depression and anxiety, teen issues, and eating disorders.
In addition, she is an educator for Cedar Crest College and Bucks County Community College covering nutrition, eating disorders, nutrition counseling, and sports nutrition.
Dana is a graduate of Lehigh University where she received a Master of Education in Counseling and Human Services. She graduated Summa Cum Laude from Cedar Crest College with a Bachelor of Science Degree in Nutrition. Dana was a graduate assistant and nutrition educator and consultant for the strength and fitness division for Varsity Athletes and author of Public Service Announcements for Lehigh University. Her contributions have been published on Lehigh's website.
---
Greta O'Donnell, MS, RDN, LDN
Greta is a Registered Dietitian Nutritionist with a Master of Science in nutrition. Greta graduated from Saint Elizabeth's University where she specialized in alternative nutrition approaches, medical nutrition therapy, and motivational interviewing.
Greta's passion is helping adolescents and adults with eating disorders and related struggles such as body image, weight management, and self-esteem issues.  She has additional experience working in a hospital setting providing nutrition education for clients with diabetes, renal issues, cardiovascular disease, and gastrointestinal problems. Greta strongly believes in a holistic approach, focusing on all aspects of a client's life, with the understanding that wellness encompasses not just nutrition, but all parts of oneself. 
Greta works from a client-centered approach and strives to educate individuals while creating a strong foundation for clients to grow in their journey toward wellness.  She specializes in helping her clients break away from diet culture mentality in order to establish a healthy relationship with food, as well as themselves.
---
Stephanie Flemming MS, RDN, LDN
Stephanie is a Registered Dietitian Nutritionist with a Master of Science in nutrition. She graduated from Saint Elizabeth University where she focused on mindful eating, motivational interviewing, and sports nutrition.
Stephanie is passionate about helping adolescents and adults with eating disorders and other eating issues in order to build a positive relationship with food. Her personal experience as an athlete enhances her ability to work with individuals looking for guidance in their sport. Stephanie also has a background working in long-term care and subacute care settings where she provided medical nutrition therapy for malnutrition, diabetes management, cardiovascular disease, and gastrointestinal disorders. She considers all parts of the client's background to gain a full understanding of the client and their needs.
Stephanie strives to understand her clients on an interpersonal level and their complex issues around food. She applies a holistic and evidence-based approach, delivered with support, understanding, and compassion to help her clients find sustainable peace with food. 
---
Madelyn Reilly, BA, MA, LPC
Madelyn is a Licensed Professional Counselor specializing in addiction, eating disorders, and trauma. She has extensive experience treating individuals in residential settings involving co-occurring disorders such as anxiety, depression, and behavioral issues.
Madelyn uses an eclectic approach of CBT, DBT, Family Systems, and Existentialism to work with every individual in a tailored and specific manner. She provides an empathetic and empowering therapeutic environment that holds the client in a safe space of unconditional positive regard.
Madelyn's passion is to foster client independence and change in a realistic and time-efficient way, with the goal of helping every client achieve a self-directed life. She works to fit each counseling relationship to the developmental needs of the client. Madelyn focuses on helping clients reach the power that exists within themselves, to find more independent and joyful ways of living.
---
Kristy Kingan, BA, MS, NCC
Kristy is a masters level clinician specializing in trauma, eating disorders, including Avoidant Restrictive Food Intake Disorder (ARFID), addiction and LGBTQIA+ issues. She has extensive experience working with individuals with severe trauma, anxiety, and depression, often with various co-occurring disorders ranging from addictions to schizophrenia.
Kristy is an integrative multicultural practitioner, meaning that she considers culture, community, and environmental factors and how they contribute to a client's symptomology or affect possible treatment interventions. She focuses on utilizing ACT and DBT to help clients address behaviors while utilizing psychoeducation, attachment theory, Family Systems, and trauma-informed practices to help determine the root causes behind a given behavior or belief that the client wishes to address.
Kristy is passionate about creating a safe, non-judgmental, supportive, and genuine environment for her clients. This includes taking the time to build trust and rapport, allowing clients to have input in terms of what they need from therapy, and working with them to create an individualized, strengths-based, holistic approach to meaningful change.
---
Dianna Long, BA, MS
Dianna is a master's level clinician specializing in treating individuals with eating disorders, addiction, anxiety, depression, trauma, low self-esteem, body image issues, relationship conflicts, domestic violence and grief and loss. She has extensive experience with co-occurring disorders including addictions, the traumas inflicted from intimate physical and mental abuse, PTSD, anxiety, and depression.
Dianna uses a CBT approach to therapy as well as incorporating DBT, Motivational Interviewing, Solution-Focused, and Humanistic Therapy. Dianna's passion lies in treating adolescents and adults by helping them find self-discovery and overall inner peace. She emphasizes the idea that our thoughts influence our behaviors and actions. Dianna believes in order to approach and challenge one's behaviors, we must first identify the errors in our thinking and understand the connection between our perspectives and our realities.
Dianna ensures a calming, empathetic, and understanding dynamic and environment with her clients. She holds a passion for helping others and feels it is a privilege to play a part in their stories. Dianna is rewarded by providing hope to those when they feel hopeless and encouragement during life's variety of challenges. She helps individuals heal from emotional wounds and obstacles in their path and opens their eyes to their true resilience.
---
Jessica Kudera, BA, MA, LSW
Jessica is a licensed social worker specializing in eating disorders, anxiety, depression, ADD/ADHD, ODD, bipolar, low self-esteem, self-harm, body-imagine issues, and intimate partner violence. Jessica attended Marywood University where she received a master's degree in Social Work and is certified in Dialectical Behavioral Therapy.
Jessica is passionate about working with adolescents, young adults, and families.  She incorporates techniques from DBT, CBT, Art therapy, Behavioral Therapy, Play Therapy, and Mindfulness. Jessica values the importance of a holistic approach to wellness and incorporates client-center and strengths-based perspectives into the therapeutic process.  
Jessica strives to help each client to deepen their understanding of who they are and who they want to be.  She provides a safe, non-judgmental space for clients to express themselves while building upon their strengths to help create meaningful, lasting change. Jessica guides clients to find balance among life's challenges and joys in order to develop a sense of inner peace.  
---
Evelyn Lopez, BS, MA
Evelyn is a master's level clinician specializing in eating disorders, grief, addiction, and trauma. She is a bilingual counselor and has been providing therapy in Spanish for many years. She has extensive experience treating individuals in residential and outpatient settings involving co-occurring disorders.
Evelyn uses an eclectic approach to therapy. She tailors her modality to what the individual will need. She has experience in CBT, Reality, Solution-Focused, Motivational Interviewing, and Family Systems. She helps individuals identify coping skills that are healthy and effective.
Evelyn strives to help individuals achieve the solutions and life changes they are looking to make, while they enjoy the process and learn more about who they are along the way. She provides a safe space through her empathetic nature for individuals to be comfortable during counseling. Evelyn believes that everyone should have a safe and healing place to work through life's difficulties.
---
Amanda Keenan, LPC, CAADC
Amanda is a Licensed Professional Counselor and a Certified Advanced Alcohol and Drug Counselor. Having graduated from La Salle University in 2011, she holds a master's degree in Clinical Mental Health Counseling with a specialty in addictions.
Amanda's passion is treating young adults and adolescents struggling with eating disorders and substance abuse.  Amanda tailors her treatment to the unique developmental needs of each client. Understanding that such disorders rarely exist independently.   Amanda is also highly trained in addressing underlying and co-occurring disorders such as depression, anxiety, impulsivity, and behavioral issues, as well as trauma and abuse. Amanda helps each client to identify new, effective coping skills and insight into negative thoughts and behaviors.
Amanda understands that motivation for therapy and meaningful change may vary. She takes the time to build a strong, trusting therapeutic relationship to help decrease resistance and anxiety, creating a safe place for healing to occur. She uses multiple treatment approaches and believes in the life-changing power of positive thinking.
---
Partnering Practitioners 
If clients need additional help with their care  Anue also works integratively with a team of health care specialists including physicians, psychotherapists, psychiatrists, chiropractors, acupuncturists, and massage therapists addressing the needs of the client holistically.
---
About our logo: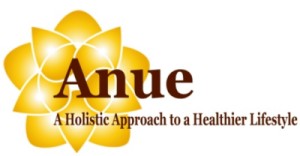 The ten petal lotus flower is the symbol of the third chakra also called the Solar Plexus chakra or Manipura. It governs the digestive system including the stomach, small intestine, liver, spleen, and pancreas. When the energies of this chakra are repressed, feelings are held back and there is inner turmoil. Imbalances can lead to digestive problems, ulcers, diabetes, hypo/hyperglycemia, and even eating disorders. When the energies of this chakra are balanced, emotions are felt and expressed. We enjoy well-being and have a clear sense of personal self-determination.
The chakras are associated with certain body parts, glands, elements, colors, senses, mantras (sounds), gems, etc.